Regular price
$50.00
Sale price
$25.00
Unit price
per
Sale
Sold out
Try this Powerful Sink & Drain Cleaner to kill stubborn stains, odours, and messes in a matter of second! The high-density foam composed of essence and decomposition enzyme is powerful to work for every angle.
It liquifies fats, oils, lint, paper, hair and other organic matter causing drain obstructions.
It won't harm your drains, pipes or septic system, as its made only from non-corrosive & non caustic materials.
lt is easy to use with only a simple pour of thepowder. lt deodorises with a fresh scent whilekilling 99% of bacteria. Not only applicable fortoilets,you can use the Powerful Sink & DrainCleaner to clean kitchen pipes, washroom sinksand balcony water drainages.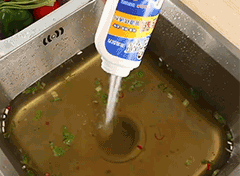 Use room temperature water, pour the productinto sinks, toilets, drains
Signs that the product is effective: bubblingDepending on the condition of mild or severeobstruction, it will have results after 24h-48h.In severe cases, you must use the product morethan 1 vial, maybe 2 or 4 vials

Using a high-density formula, our products sticks to the walls of your pipes and alters the pH level to rapidly dissolve the obstruction.
Features
Effective dissolution: high-density foam to remove stubborn rusts, dirts, stains, hairs, soap scums in all angles instantly
Multi-uses: suitable to clean kitchen pipes, toilets, washroom sinks, balcony water drainages and more
Easy operation: pour the powder for the instant burst in foam without toilet brush usage or wiping
Corrosion-free: safe without any damage towards your properties
Kill bacteria, fungi & viruses: E.coli, Salmonella, Listeria, Staph. aureus, E.hirae, Vibrio cholera, Candida albicans, Influenza type A2, and Herpes Simplex Virus Type 1
Deodorise with a fresh scent while disinfecting 99.9% of bacteria
Using gloves to avoid direct skin contact is recommended.Store in a cool and dry place
Specifications
Material:Alkaline Dissolving Agent and Surfactant
Color:White
Product size:10*4cm
Weight:110g
Package includes:SINK & DRAIN CLEANER*1/2/3
Share
View full details